Magic Spam?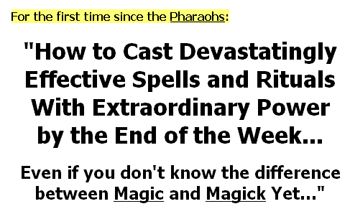 It's not magic, but definitely magic-related. How many people do you think are really falling for this shit?
Witchcraft Secrets Revealed
Romance, Finance - Have it All
I just got off the phone with Giancarlo and he was telling meabout his new book about getting what (and who) you want withthe power of Witchcraft.
Yes, I said Witchcraft.
But not the bad kind that brings violent and negative effectsin your life. It's the helpful, spiritual way of the matter.
It teaches you how to use easy spells and 5 minute ritualsto bring more abundance, love, health and joy to your life.
He has students writing him testimonials and words of praise every day...
I am SURE you will love it :-)

Check out his website
Or don't.
MM